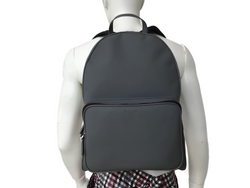 Time Off Backpack
$1,950.00
or $650.00 per month over 3 installments with
Founded in Paris in 1895 by an Italian boot maker and owned by the LVMH group since 1993, Berluti has sealed its reputation as a fashion house specialized in menswear, blending expertise with tradition and modernity. The consistent result has been shoes of incomparable comfort and elegance, expressed in the House saying: "you cannot be elegant if you are not comfortable and well shod". These techniques and this expertise, initially developed for bespoke footwear, were also brought into service for the ready-to-wear collections. In 2011, Alessandro Sartori was appointed Creative Director and entered the uncharted territory of ready-to-wear. Staying true to the company's heritage, the designer reinterpreted its classic expertise, adding his own personal stamp and a contemporary edge. 
- Adjustable shoulder straps.
- Two-way zip-around top.
- Embossed logo at the front.
- Interior, one zip pocket.
Made in Italy.
Approximate Measurements:
(#727) 17" H x 15.5" W x 4" D 
AUTHENTICITY & RETURNS
100% authenticity guaranteed or your money back, no questions asked! Get the details on our authenticity guarantee here.
As a matter of fact, we will accept returns or exchanges on any products that have not been worn or had its tags removed, if tags were present upon reception, within 14 days of receiving the item, at the buyer's expense.
Please note that a 15% restrocking fee will be deducted from the refunded amount up to a maximum of 120 USD.
Simply send us a quick message to info@luxuriaco.com stating that you would like to return the item and we will give you an address where you can ship it to depending on your location in order to minimize your return shipping fees. We currently have return addresses within the USA, Canada and Europe. Find our more about our return policy here.
DISCLAIMERS
1. Shoe Boxes & Dust Bags: The boxes that come with shoes are not branded in store packaging and do not include dust bags unless otherwise specified. The boxes which are included are warehouse storage boxes and are often crumpled and torn. This does not affect the condition of the product inside the box.
2. Clothing: Clothing may need pressing upon reception due to being packaged and shipped.
3. Affiliation: Luxuria & Co. is not affiliated with Louis Vuitton, LVMH or any other brand being sold on this website.
FREE EXPEDITED SHIPPING
We offer free expedited shipping worldwide! Please allow 2 business days for processing and handling upon placing your order. Once we have shipped out your order, you will be provided with a tracking number and can then expect to receive your package within the following 3 to 6 business days.
DUTIES & TAXES
As the great majority of our products ship from Europe, please note that your order may be subject to duties and taxes upon import if you are located outside the EU. We ask you to please take these fees into consideration before placing an order with us. If you have any special requests concerning shipping, please leave a note when fulfilling your order or contact us directly at info@luxuriaco.com.
If you are within the USA you will not be taxed on orders up to 800 USD. For more information about which duties and taxes your order may be subject to please refer to your local customs agency.
If you reside in Canada, federal and or provincial sales taxes will be automatically added to your order upon checkout as we are a Canadian corporation.